Good credit union executives are hyper-focused on member value and providing better options and choices for members than the competition. Good lending officers are hyper-focused on facilitating the right loan for members … and, as a result, keeping the competition at bay.
To balance member value, to keep the right loan equation for interest income, and to stay competitive in today's high-tech world, credit unions strive to ensure that their product offerings are both convenient and simple for members to access and use. As such, providing easy-to-use, "sticky" Internet tools like online quote engines may seem like a strategic way to keep members satisfied and engaged with your credit union (and thereby, hopefully, keeping the competition at bay).
But this is not as simple as it sounds, and credit unions should remain wary of commoditizing your member relationship.
"I just want a quick quote-I don't want to have to be on the phone for an hour."
How many times have your loan officers heard that comment? In this instance, the operative word is "quick." And while every service organization strives to provide the quickest service possible, fast doesn't necessarily mean "good" or "cheap."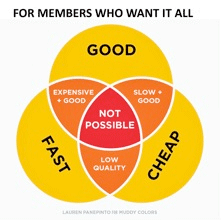 Credit unions pride themselves on a commitment to the mission, as evidenced by deep, personalized relationships with members. Other financial institutions? Perhaps not so much. So, while some programs are clearly made to order for online applications – think seven-minute auto insurance e-quotes or three-question, no-underwriting life insurance e-quotes – such products have become commodities.
And in the world of commodity sales, it can be suggested that quick-quote engine tools are designed to hook and upsell at a higher price. In our world, however, it's a proven fact that credit unions' deep commitment to products which provide personalized, consultative member service is something that can help to optimize both interest and non-interest income, while still providing a better value than options from external sources.
What can go wrong?
For members' largest investments, many credit unions provide mortgage teaser rates and/or basic e-calculators. As the mortgage product is not a commodity, rarely do credit unions deliver a full online application-to-quote-to-funded loan online engine.  This should also be the case for auto loans and the associated non-interest income products like Vehicle Service Agreements/Mechanical Breakdown Insurance (VSA/MBI).
Some of the inputs necessary to provide a proper quote include:
Auto. Truck. Motorcycle. RV. Snowmobile.
Year. Make. Model.
Manufacturer's warranty (years and miles remaining). Powertrain warranty (years and miles remaining).
Total odometer miles. Annual miles. How many years the member expects to keep the vehicle.
Modifications. After-market parts.
Platinum coverage. Gold coverage. Bronze coverage. Powertrain-only coverage.
Loan term. Member's budget. Member's appetite for risk.
The online quote parameters can be endless, and, with the time taken to understand the specific situation for each member, the quote generated would ultimately provide an arbitrary or average price, which fails to communicate the true value of the product and service. Further, some product distinctions are subtle, yet critical; and many times it's hard to differentiate one provider's – or dealer's – coverage from another.
Instead of providing an online quote engine, for practically the same amount of member time investment, credit unions and loan officers are better served by facilitating a five-minute, consultative and highly-personalized conversation with members. This can put price into context for members' specific needs as to the value and benefits of a VSA/MBI. In addition, it can address the specific type of coverage each member may need in their unique situation, to prevent unexpected and costly repairs caused by a mechanical breakdown.
Don't commoditize the member relationship
Credit union websites are intended to offer quick, easy-to-access answers. Ideally, they also facilitate decision-making. In lieu of impersonal online quote engines, ensure information on your website is clear and concise regarding the process and value of more complex products, like VSA/MBI. Doing so can save members time, effort and sometimes a very bad experience. For credit unions, it can make the difference between word-of-mouth member endorsements and those that damage reputations.
James Hawk
Jim Hawk is President and CEO of IWS, a national provider of vehicle protection products to credit unions, headquartered in Boca Raton, FL. For more information, visit www.iwsgroup.com
– See more at: http://www.cuinsight.com/keeping-members-satisfied-what-you-need-to-know-about-online-vsambi-quote-engines.html#sthash.FryP6Lbk.dpuf