With an IWS Vehicle Service Agreement, you can protect yourself from unexpected, high-cost repairs, not to mention, increase the resale value, if you choose to sell your vehicle.
---
SOME OF THE MANY BENEFITS:
Optional deductible
Towing $100 (max per claim)
Car rental
– Platinum and Gold – (up to 10 days) $500
– Bronze and Powertrain – (up to 5 days) $250
Nationwide protection
Travel Expenses – $100 per day up to $300 trip interruption
– Only available in Platinum, Gold and Bronze
Increased vehicle resale value (can be transferred with the sale of your vehicle for $40 fee)
Roadside assistance – $80 per incident within 72 hour period
ADD-ON FEATURES (Surcharge applies):
Accidental Loss Refund – optional coverage to protect against collision or acts of God only
KeyGuard – optional coverage for key fob/remote entry
Light Commercial Use – coverage for eligible business uses
Snow Plow – coverage for vehicles that have a snow plow attached
Lift Kit/Tire Modification – coverage for vehicles that have body/suspension lifts or oversized tires
PRODUCTS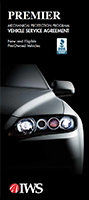 Premier Coverage 
Provides the most comprehensive coverage available on the market today at an affordable cost. Our coverage options follows most manufacturers' warranties and guidelines that originally came with your vehicle. Additional benefits such as car rental, roadside assistance, trip interruption protection and towing are also included. KeyGuard, coverage for replacement of new, expensive key fobs, and Accidental Loss Refund are optional.